Ben B.Boothe, Sr. - Sunday, May 15, 2022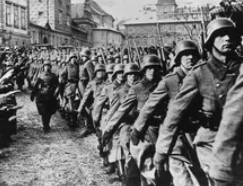 Someone in the Kremlin of Russia, came up with a story that a little farming country to the south was "to be siezed because it was a threat."   Moscow announced to them that they are going to take all, or a part of the country.  The little country said: "Why?"  "No, you can't do that!"  Russia invades.  Sound familiar?   The year was 1939, Joseph Stalin a cruel and rough leader of Russia wanted Finland. The world was in a world war with Nazi Germany and the nation of Japan.  Well, Finland and Russia have never had a marriage, and their courtship has been hostile at best. 
  Truman and Churchill must have been curious when Joseph Stalin seemed  eager to "change sides" and join in an effort to battle with the ALLIES in WWII.  It must have seemed congruous to see the Stalin of cruel warlike tendencies sitting beside Churchill and Roosevelt, as new "saviors of the world" trying to end WWII.   After a while, the new President of the USA,  Harry Truman began to put pieces of the puzzle together.  Stalin wanted to ride on the power and war machines of the USA to give him more leverage to attack and take over the many small nations near Russia's borders.  He, wanted to expand the legend of the man who expanded "Massive Russian Empire."  
The story should remind us, that Russia has been obsessed with taking the smaller nations that border or are near Russia, for over 8 decades.  It seems that leaders of Russia catch an infection, that creates a "fever" to restore or expand the Russian Empire. Remember World War II? Started 9/1/1939 and ended 6 years later, Sept 9, 1945. 50,000,000 people died in WWII.  It became a surprise question, to President Harry Truman when Stalin became friendly and offered to join the US in invading parts of Europe.  Stalin wasn't known to "join up just to help friends" while offering to help the US to end WWII.  Truman wondered: "What does Stalin really want here?"  But then Truman began to see Stalin's movements of troops and war equipment, working to seize and claim the smaller nations that bordered Russia in Central Europe/Central Asia, to expand Russia's Empire....to  "absorb those smaller nations."  Some believe that was the factor that helped Truman decide to drop atomic bombs on Hiroshima and Nagasaki, on August 6th and 9th.   Truman wanted to steal some of Stalin's thunder.  Even at that, in 1949 the Soviets increased their control of some governments of Eastern Europe, and finally in 1989, there was a collapse of Soviet Control, of Eastern Europe (bad economy, repressive government policies, creative rebellion in Eastern Europe).…