Ben B.Boothe, Sr. - Thursday, April 12, 2018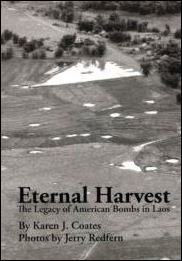 When BigSkyVoices (youtube) interviewed Karen Coates and Jerry Redfern, we knew we were dealing with quality people who were devoted to a quality project. While on an international reporting assignment in Laos years ago, Karen and Jerry noticed that people were being killed and injured by more than 2.1 million tons of bombs dropped in Laos during the VietNam war. Many of them were (and are) still live, buried and dangerous. Day after day, bombs explode after being disturbed by farmers and children.  Some fields have so many unexploded bombs that people are afraid to farm or even let cattle graze the fields. Karen, an accomplished writer, has written a book, "Eternal Harvest, The Legacy of American Bombs in Laos," which is generating attention. While her stories have appeared in publications such as the New York Times, she and Jerry have made more than 20 journeys to Laos to follow up the book with a film on the subject. Since the Vietnam War, more than 20,000 citizens of Laos have died or been injured by hidden American bombs. And over all of these years, one American, only one American, has gone back every year to help find and eliminate American bombs. 
The people of Laos have learned to live with American-made bombs. They have made cooking utensils out of them, made fishing boats from the ejected gasoline tanks of American jets. And yet, even as deaths occur daily in Laos, it is estimated that it could take 50 years to remove all of the buried bombs that Americans dropped on Laotian soil.…