Ben B.Boothe, Sr. - Tuesday, April 18, 2017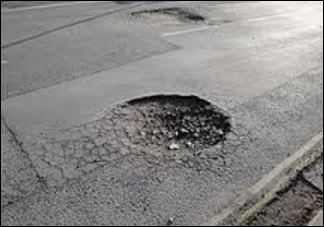 INFRASTRUCTURE IS A BIG DEAL, AND THE USA IS IN A DEEPER HOLE THAN EVER.  CAN TRUMP FILL IT?
Infrastructure needs fixing, from local towns to interstate highways!
Like the president, I have traveled the world and have noticed the sorry state of America's aging, sometimes potholed interstate highways, aged inadequate airports, ancient electrical systems, and obsolete water systems. Oxford Economics projects that world-wide spending for infrastructure will increase to $78 trillion between now and 2025. Much of that will be spent on new infrastructure by nations such as China, Saudi Arabia, UAE, Germany and Japan. The USA, just to "repair and keep up," will spend least $5 trillion. The U.S. government under President Trump thus far has been distracted by expending energy and money attacking administrative departments of government or increasing military posturing and spending. In the meantime, infrastructure has been on the back burner. Our government leadership has been slow, indeed negligent, about fulfilling campaign promises on new infrastructure.A recent Time magazine article attempted to summarize some infrastructure needs. Reports from numerous "think tanks," both Republican- and Democrat-oriented, have brought up the urgent need for infrastructure spending. We counted over 30 recently published articles on infrastructure needs and problems in a quick review of the internet. This could be a true bi-partisan project. All sources say the needs are more widespread than current projections. Back in the "homeland" the need is driven home when places such as the small town of Las Vegas, New Mexico, run out of water only to find out that hundreds of leaks in its water system and its 70-year-old dam were making for a seasonal drought issue, a crisis.  The dam that was supposed to hold water for city use was cracked and had been leaking for years, perhaps decades.…