Ben B.Boothe, Sr. - Tuesday, October 13, 2020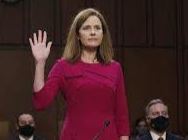 1. She is intelligent: Amy Coney Barrett has answered questions by the Senate, in a calm, logical, competent manner.  She didn't have to refer to notes.
She repeatedly said that President Trump, or his associates had not demanded or requested a "prior commitment" on rulings as a Supreme Court Judge.
2. Legal and fair: She has said that she would make rulings in a legal matter, and fair matter. She says that she will independently study, then consult other Justices, and  make her rulings based upon her study of law, not political or partisan pressure.
I believe her.…