Ben B.Boothe, Sr. - Saturday, May 28, 2022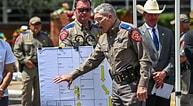 They were everywhere. Those Texas Ranger Cowboy style hats.  Strutting around in Cowboy hats, many carrying guns, often hoping someone would take their photo.  In Uvalde, in Houston, San Antonio, Austin.  I used to take pleasure in those hats, pointing to a Western Heritage of bravery and common sense, of compassion and willingness to die to project the innocent.  Not now. Not after Uvalde.
Some there were local police...some wore hats because they like the "Cowboy look", some wanted to be like the famous "Texas Rangers" who all seemed to wear those big white hats.  
When I saw what seemed like a hundred "Western Cowboy Hats" and bold looking men wearing police badges, cowboy hats, and Texas Ranger Uniforms, I thought...those little kids, those scared children are in good hands.…