Ben B.Boothe, Sr. - Thursday, February 15, 2018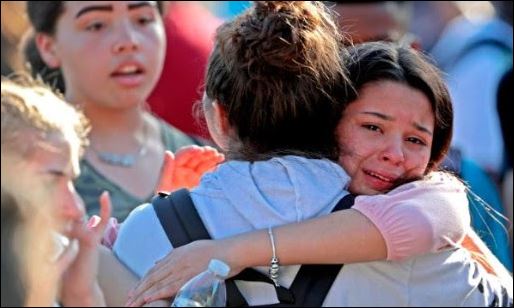 The CNN article by Doug Criss said it well!  Not again.  The fourth school shooting this year, in the "safest city in Florida".  Another article in the New York Times said: "These kids lived in a nation that didn't love them enough to protect them".    We at Boothe Global Perspectives wrote an article 3 years ago, and then another later article suggesting that purchases of guns must be efficiently recorded into a central data base, and that no mentally ill person should be allowed to purchase deadly weapons, especially automatic assault weapons."  At that time he had so many "hate" letters, from a spectrum of our society that it amazed even us.  One bank president from Texas wrote that "We encourage all of our bank officers to have automatic weapons to protect us from the government!".  Another wrote challenging me to a fight.  Another wrote with so many obscenities, we will not quote them. 
We again say that the shooting at Marjory Stoneman Douglas High School in Parkland, Florida makes us face the truth. Which do we love the most?  Our kids or our guns?
We must ask those Republicans who have staunchly voted against measures to deal with this (who by the way are very silent) "Do you love gun companies, and assault weapons more than you love our children?"   The United States has more weapons in private ownership than any nation on earth, and we still see again and again, kids that are emotionally upset, not yet mature, killing other children.  It is understandable perhaps that sleazy criminal adults have guns, and use them.  We have a home in Albuquerque, New Mexico and not a day goes by without a shooting, murder, armed robbery, car-jacking, to the level that the crime rate in Albuquerque exceeds even that of Chicago.
As a child I was a member of the National Rifle Association, and my father proudly taught me to hunt, to enjoy nature, and "to leave it as if you had never been there".  But as a decorated Marine of WWII, he staunchly considered the ownership of guns a matter of deep responsibility. If he ever saw me as much as load a weapon while in our home, or accidentally point a gun (loaded or not) in the direction of a human, he scolded and raised his voice, until we "got it".  But, at some point in my life, as much as I loved the "hunt" I began to hear other "hunters" bragging about their machine guns.  Later when I met Bill Ruger (family founded the Ruger Gun Company), in New Hampshire I got a new perspective.…