Ben B.Boothe, Sr. - Monday, April 16, 2018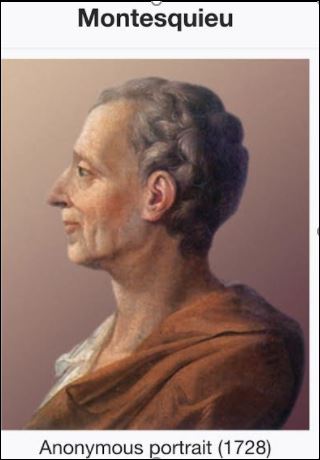 MONTESQUIEU (1689-1755) also known as Charles-Louis de Secondat, Baron de La Brede et de Montesquieu, was a man of letters, a judge, and a political philosopher in France.
From time to time I write about historical voices, because we should learn from history lest we repeat it. My attorney friend Charles Gurd reminded me of Montesquieu.  
Montesquieu's influence came at a time when kings and wealthy aristocrats typically had forced their policies and views upon France. The old adage, "gold makes the rules" was very true then, for the rich and powerful tended to force their will on nations and peoples. Unlike today in America, the wealthy and nobility were often some of the best-educated people in the country. In America, we have a large segment of wealthy people who largely have missed out on higher education. But in France, in Montesquieu's day, the "common" people, the workers, farmers and merchants were restless and sought change. Montesquieu helped define the system that we today have enjoyed for almost 300 years. The system has been successful at limiting the power of tyrants, but some tyrants rise and try to test it, or "game" the system. Read on and see what I mean. 
He believed if, for example, the executive branch somehow "loaded" the judicial branch (the courts), that it would corrupt the laws and give the executive branch (the president) too much power. The judicial branch was supposed to be completely independent and beyond influence of the executive branch. …