Ben B.Boothe, Sr. - Sunday, February 14, 2021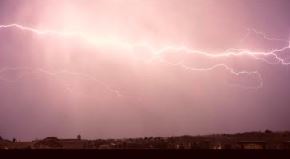 Freezing weather with snow and ice hit Albuquerque with over 30 huge horizontal lightening bolts.    As the sky lit up, snow fell and the effect was a rare display of heavenly energy.
   "The sound and power of this cold front was unusual, the ground covered with snow and temperatures dropped from the 60% to 12 degrees" said Ben Boothe.  "We were amazed, went outside, and stood in the snow just to watch, when someone suggested that this might not be a good time to stand outside in the snow!"  said Ben.  So we found a bottle of Tito's Vodka, and thought to  raise a toast to this strange phenomena. We seemed to enjoy the light show even more after a "sip or two" of Tito's.  No doubt an experience of a lifetime.  2021 already has demonstrated news and unique events. 
Someone noticed that the Vodka was distilled 6 times and was Gluten Free.  We figured after the "baptism of fire" from above, the snow falling upon us, a unique light and sound show, we were all happy that even the Vodka was distilled multiple times, just like the lightening came again and again.   At the moment with skies filled with snow, lightening, noise and power, that it was appropriate to drink something distilled so many times.  What a delightful and happy winter night, it turned out to be.   …