Ben B.Boothe, Sr. - Saturday, May 28, 2022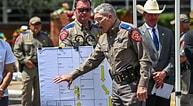 They were everywhere, those Texas Cowboy Hats, that law enforcement enjoys in the culture there. 
  Strutting around in Cowboy hats, many carrying guns, often hoping someone would take their photo.  In Uvalde, in Houston, San Antonio, Austin a lot of people wearing them.  Even at the huge "Gun Show" lots of those cowboy hats on heads for show.    I used to take pleasure in those hats, pointing to a Western Heritage of bravery and common sense, of compassion and willingness to die to protect the innocent.  Not now. Not after Uvalde.
Some there were local police...some wore hats because they like the "Cowboy look", some wanted to be like the famous "Texas Rangers" who all seemed to wear those big white hats.  …