Ben B.Boothe, Sr. - Wednesday, November 21, 2018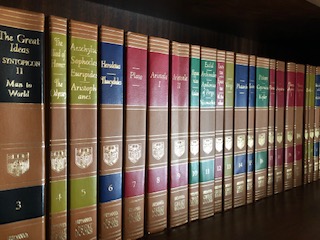 It is the holiday season of 2018, and after the feasts, gifts and parties, in the quiet time, I often return to my oldest friends. Some of these have been with me since I could first read. They often are said to be obsolete or about to be replaced with electronic versions, and that makes them all the more precious to me. I have read, embraced, questioned, been challenged by and often inspired by these friends. Let me introduce some of them to you. Forty plus years ago a friend drove from Austin to Ft. Worth, to bring this set of the "Great Books" to me and said "Read them all and you will have a deeper education."  It was the best investment I have every made.  I have found that life and experience is a great professor, but these books may represent an additional "Post Graduate Degree." I have read all of them except two, and some I have read and referred to them many times over the years. They are good friends. The Great Ideas concept reminds us of how few "great ideas" our political leaders seem to have. We as a nation need to pick better people, with a great education and knowledge of the great ideas of history, to represent us.  Vision and wisdom, judgement and depth, that is what we as a nation should seek in those we elect.
Then there are these: I have a selection of holy books of most major religions of history. I determined not to judge other religions not having any knowledge of them.  Something more people should do.   Amazing how similar their views on ethics, integrity and character are, even when they come from different nations, ages and traditions. Some of my friends are ancient Bibles published in the 1800's or before.  I cherish them not only because they are old, but because they have an artistic, respectful power.  Those books were considered sacred treasures to the families and scholars who bought them. It shows if you look.
Most people don't realize that the original 1611 King James version of the Bible was revised and corrected more than 180 times in the early years after it was published. Then the later great works of the Bible, done with personal paintings, engravings, some made from woodblock, are from another era. They are beautiful and all out of print. One of my favorites is the story of the "Blind Leading the Blind" in one ancient Bible series.  I saw one ancient "Family Bible" and asked the dealer/collector what he wanted, and he said $800.  I wrote a check and it is worth 100 times that to me.  See the blind man leading others and falling into a ditch. Done with art, mingled with the typeset words it made images that people held in their minds for a lifetime, brought life to the old messages. Even as a child I remember these images that my Sunday school teacher showed me, they brought the Bible to life, and it forever impacted my thinking and views of those old biblical stories. …