Ben B.Boothe, Sr. - Sunday, February 14, 2021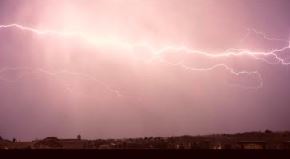 Freezing weather with snow and ice hit Albuquerque with over 30 huge horizontal lightening bolts.    As the sky lit up, snow fell and the effect was a rare display of heavenly energy.
   "The sound and power of this cold front was unusual, the ground covered with snow and temperatures dropped from the 60% to 12 degrees" said Ben Boothe.  "We were amazed, went outside, and stood in the snow just to watch, when someone suggested that this might not be a good time to stand outside in the snow!"  said Ben. 
But we have had reports from around the country, the unusual weather and extreme weather has also brought wild lightening to Texas and other places.  Take a look at this photo in the skies above Austin, Texas.