Ben B.Boothe, Sr. - Tuesday, May 28, 2019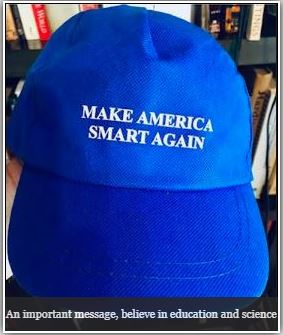 We recently published an article, "MAKE AMERICA SMART AGAIN," focusing on current political trends to ignore or diminish education and science in America with the goal of manipulating science to support political ideologies. We see in this brilliant article, posted online from the New York Times by By Coral Davenport and Mark Landler, a confirmation of the very trends that we stressed when we produced the MASA hats  (which we send out coast to coast for free). We see it counter productive to have politicians try to discount education, science and knowledge to support their political agendas. 
See the Boothe Global Perspective article on MASA posted on March 20, 2019, in the Living section. Politicians seeking to distort education and science, to support a political agenda, is simply "fake news" promulgated by Trump followers. Seems that the ugly head of John Bolton is pressing this effort to "gut" science and education for his right-wing agenda. 
The attack on education and objective science for political purposes is a distortion of truth. Seems that the current breed of ultra-right-wing politicians want to discount education and science, and to to try to hide or manipulate it.  Full credit for the following article goes to the New York Times and writers Davenport and Landler for this great article. We recommend that you follow them in NYTimes.com for future articles. 
Ben Boothe, Publisher, BootheGlobalPerspectives.com…