Ben B.Boothe, Sr. - Monday, January 16, 2017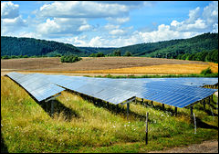 New trends in farming. We at BootheGlobalPerspectives are seeing more and more farmers, in the USA and around the world, converting their farmlands from traditional crops to "FARMING THE SUN"  with solar panels. Solar Power has expanded the money-making power and brought in new opportunities for farm, ranch and land owners.
Farmers are finding the risks of fluctuating crop prices, drought, insects, floods, and the costs of fertilizer, tractors, harvesting and shipping more expensive every year. So, many are putting their crops into solar panels and either leasing the land to large energy companies or selling the electric power produced directly to the companies. Some are converting "marginally productive" farm and ranch land into solar farming with extensive arrays of solar panels.
Last week I got a letter from India, a nation habitually short of electric energy, from farmers there who are now "growing electricity" more profitably than they formerly were growing crops. Instead of the labor-intensive issues of planting, plowing, weed control, irrigating, cultivating, insect control, harvesting, storage, transportation, packaging and processing, they are simply leasing their land out for solar panels. Some are buying solar panels instead of new tractors and gradually expanding their electrical production. 
We at BootheGlobalPerspectives have noticed more farmers in the USA are converting use of their land from cotton, wheat, grains and traditional crops to harvesting sunlight into electricity. Part of the key to their success has been an over production of solar panels in China that has pushed the price of solar panels very low. Now many producers report that they can produce power for a cost of 5-6 cents per Kwh, which is very near the price that coal and natural gas can produce electricity in traditional power plants.…