Ben B.Boothe, Sr. - Thursday, September 8, 2022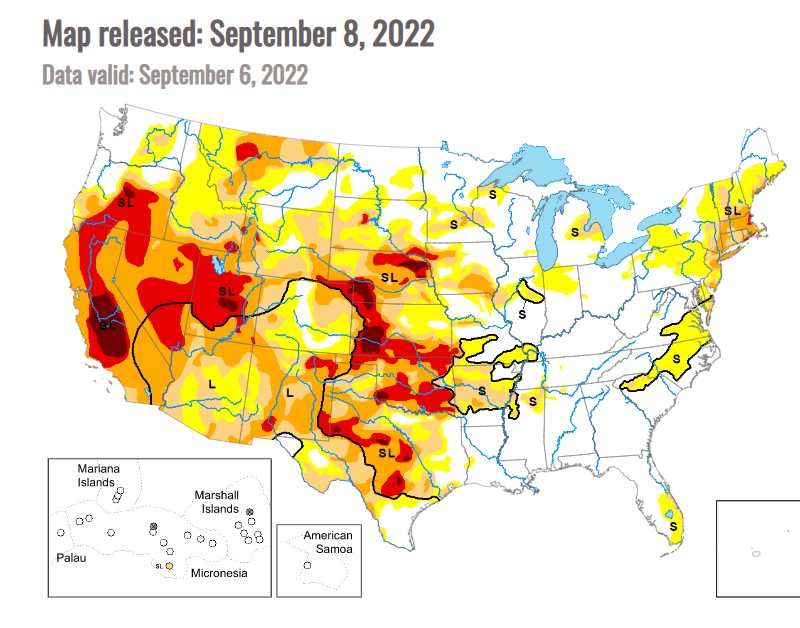 Water issues point out that Texas and New Mexico are among 8 critical states with water shortages.    The above map illustrates hot spots and points to states that are facing water issues. 
In Texas, it is hurting farmers, ranchers, with some of the driest soil "moisture" readings in decades. Farmers are projected to fail in high numbers in Texas, unless saving rains come, and some say it may already be too late for that hope.   In New Mexico, forest fires and grass fires reflect how dry the state is, with millions of acres burned black, now causing floods for lack of vegetation and trees to "hold the soil". 
Southeastern New Mexico, and the great area of oil production the Permian Basin which spreads from SE New Mexico to the lower Panhandle of Texas and then on down to south Texas, are showing great heat and greater thirst for rain.   Kansas and Arkansas are also dry as are big parts of California (some of these places show floods one day and drought the next.  
Some of the surviving old timers recount the great depression, sand storms and droughts of the 1940's in the USA.  "When our windmills and wells failed, we tried hauling water by horseback and by old wagons and later trucks.  But we couldn't haul enough to save crops, and soon were simply trying to keep our families and milk cows alive." my ancestors told me.…