Ben B.Boothe, Sr. - Monday, November 4, 2019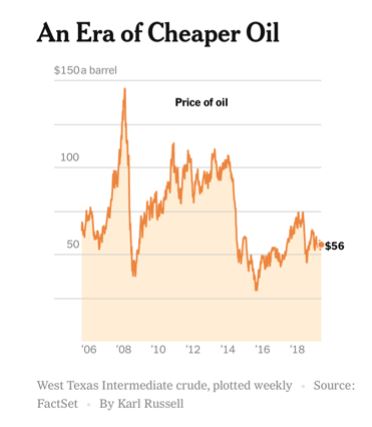 We have noticed several trends, one in oil drilling and production, and the other on natural gas drilling and production that could have a significant impact upon prices. 
We at BootheGlobalPerspectives agree that "pictures and graphs" enrich communication. The images tell much of the story. 
PRICES DROP AND PRODUCTION DECLINES, SAY THE CHARTS.
So, let us look at U.S. Shale Oil production, like we have seen in the Permian Basin.  Worldwide we have seen that while the USA was the world's largest oil producer, last year production declined since late 2018.  Fifty nine percent of this US production came from shale oil production.   In 2019, the price of oil dropped about 18 percent from the year's peak of $66.30 in April to near $54.18 the first week of November 2019. Production has dropped from 10.96 million barrels a day in 2018, by 1.8 million barrels a day, for the same period in 2019. That may be the result of the initial production of new wells, which quickly after a few months, tapers down.  We have seen this all over Texas and New Mexico on new well sites. …